Ruswarp
The village of Ruswarp is approximately 1.8 miles from Whitby, reached by a winding down hill road. Ruswarp is on the Whitby to Middlesbrough Esk Valley Line. Frequently the steam trains from the North Yorkshire Moors Railway can be found running from Whitby to Pickering on this line, though sadly not stopping. The steam trains are a magnificent sight, steam billowing, as they cross the rail crossing on the iron railway bridge. Ruswarp station is wheelchair accessible.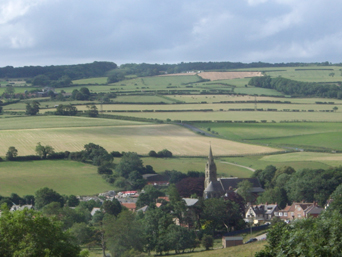 Ruswarp
Near to the railway station is the Ruswarp iron suspension bridge which was built using iron from the same supplier of the Sydney Harbour Bridge (Dorman Long, Middlesbrough). There has been a succession of bridges here. In 1828 a disastrous flood washed away the bridge, and a later one in 1930. In 1793 a project was submitted for a canal to be built from Ruswarp to Pickering to help with the conveyance of grain etc. but this was later abandoned due to the prohibitive costs involved.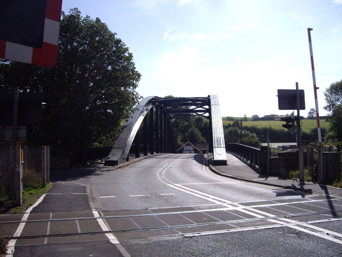 Ruswarp Suspension Bridge
Opposite the Ruswarp station, is the Bridge Inn public house with rear beer garden. On the riverside, is the Ruswarp Old Mill which was built in 1752, but unfortunately burned down and then was rebuilt and continued functioning until 1989, when it was converted into apartments.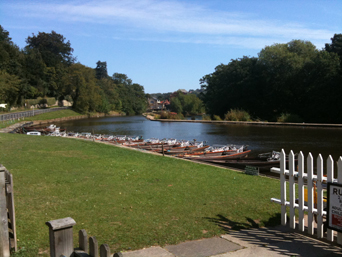 Ruswarp Pleasure Boats
Along this stretch of the River Esk is Ruswarp Pleasure Boats where boats can be hired to row down the River Esk till nearly as far as Sleights. This is a lovely, tranquil stretch of river, bordered by overhanging branches and inhabited by ducks and some swans. Fishing is available from here.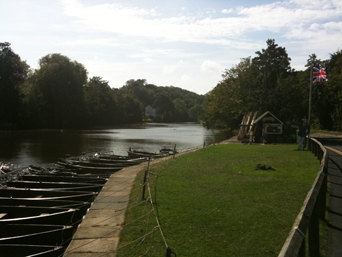 Ruswarp Pleasure Boats
There is a minature railway, with a small car park, the train runs on a weekend Easter to October and all the school holidays. This attraction is ideal for children, as is Esk Leisure Indoor Play Area, Mini Monsterz is open all year and includes a pottery painting studio, indoor laser tag, outdoor laser combat, farm park and adventure play and a welcome café bar!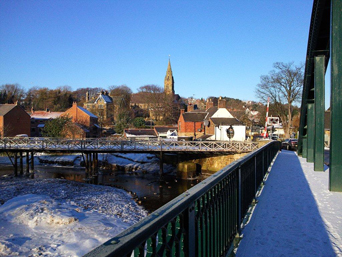 Ruswarp Village in the Snow
Ruswarp Old Hall hotel was built in the reign of King James I in 1603 and is a magnificent old building. Alongside the hotel is the 'Monks Trod' paved walk to Whitby across fields and through a small copse.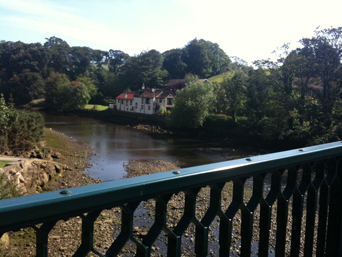 The Esk River from Ruswarp
Self catering holiday accommodation is available in the village as well as bed and breakfast and a caravan park. The village is served by a general store , a popular butchers with an excellent reputation for its pies, a petrol station and garage.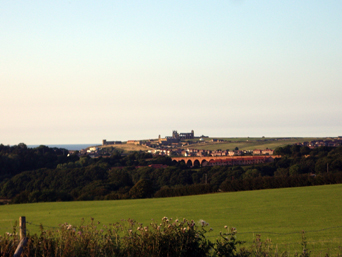 Whitby and it's Victorian Viaduct, from
a distance
Overlooking Ruswarp is the Victorian viaduct standing 120 feet high, which was part of the old Whitby to Scarborough Railway Line, axed in 1965 and is now part of a popular walk and cycle path to Robin Hoods Bay.
Ruswarp Railway Bridge and Mill in the
distance
The village church of St. Bartholomew was consecrated in 1869, and has some pieces of furniture by Robert Thompson, the 'Mouseman of Kilburn'. Most weeks on a monday there is a livestock auction market. Occasionally there are plant sales.
Ruswarp Map