Castleton
Castleton is a busy moorland village, situated 10 miles west of Whitby. At one time, it was the largest settlement in Eskdale. It appears to have taken its name from a castle founded by Robert de Brus around 1092. Primrose Hill, formerly Stock Hill, where there were medieval punishment stocks, is where John Wesley preached in 1772, and also the site of the famous Cheese Fairs held in the 19th century.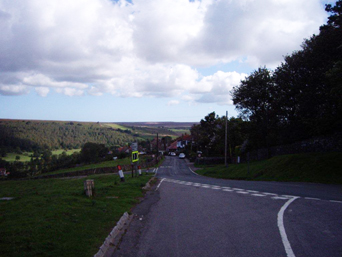 The road to Castleton
Iron stone mining and smelting kept many people in employment here in years gone by. It's hard to imagine all that industry, when you see the moorland village now.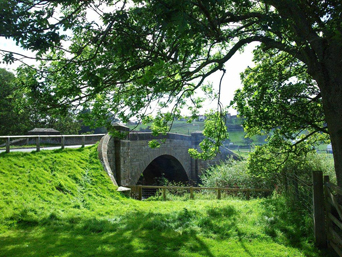 Castleton Esk Bridge
Castleton Village seems to be split into two parts. The bottom Castleton Moor, has the Esk Valley Railway Station, which has a step free station, but may not be suitable for the disabled owing to the uneven car park. Here too, is The Eskdale Inn Public House, near to the Esk Bridge built in 1870.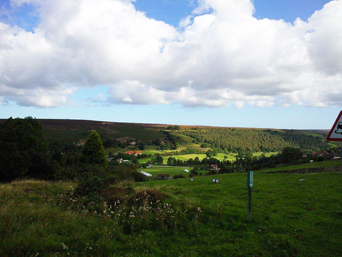 Countryside around Castleton
The top part of Castleton is reached by a winding road. On the ascent, on the left hand side there can be seen the remains of the mound of a Norman motte. The main street of the village, is served by a variety of shops, a hairdressers, a bank, and a garage. The Downe Arms public house has a bowling green adjacent to it. There are also tea rooms, an art gallery and post office.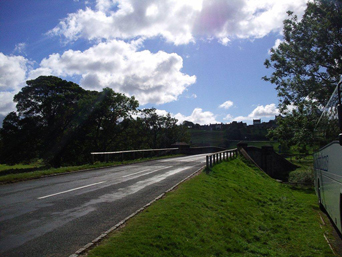 Castleton and the Esk Bridge
The Castleton village church is the St. Michael and St. George Church of England, built in memory of the men who died in World War I. The benches, organ screen and panelling at each side of the altar all bear the distinctive signature of a crouching mouse of Robert Thompson, the 'Mouseman of Kilburn'. The Castleton and Danby Floral and Horticultural Society Annual Show is held on the second Saturday in September.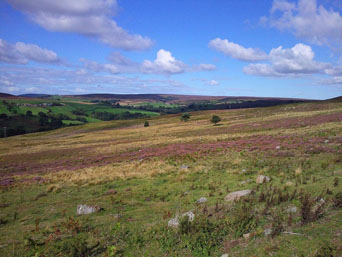 Countryside Around Castleton
Hawthorn cottage on the High Street (now a bank), was where the famous 'Hand of Glory' was found in the attic. It was a hand cut off a hanged man (most likely a thief) and preserved in a special pickle. It was said that a candle placed in between the fingers and lit would keep the house inhabitants asleep long enough for thieves to steal from the house. It is now exhibited in the Whitby Pannett Museum.

Panoramic View near Castleton
Castleton Map