Falling Foss
Falling Foss is a delightful waterfall, accessed through woodland on either side of Littlebeck and Maybeck. By car, it is on the B1416 road approximately four miles south of Whitby, passing over the bridge through Ruswarp and on to the Red Gate bend. Follow the sign for the parking (Sneaton Forest Car Park) and the picnic area. In the woods nearby, and accessed via a footpath is Midge Hall, a gamekeeper's cottage built in the 1780s and recently renovated in 2008, as Falling Foss Tea Gardens. The Tea Gardens open April to October.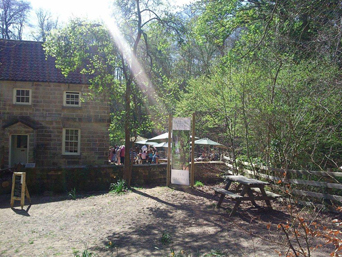 Midge Hall
Nearby too, is 'The Hermitage', a hermit's cave carved out of a huge boulder, reputedly by a George Chubb in 1790, on top of which is two wishing chairs carved of stone. The idea is to sit in one and make a wish, then sit in the other for the wish to come true.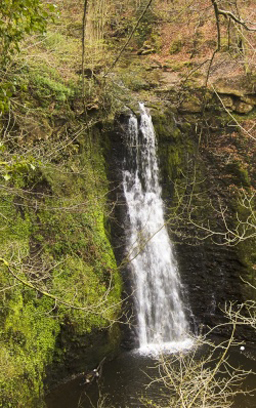 Falling Foss
The 30' Falling Foss waterfall, is most spectacular after heavy rain and is on the Falling Foss Forest Trail in Sneaton Forest. Many different walks are found around here, either starting from the car park, Littlebeck, or Sleights. Care should be taken on some of the paths, particularly after rain.
Falling Foss Waterfall
Press the arrow to start the video, press again to pause.
Falling Foss Map