The Hole of Horcum
The Hole of Horcum is found on the A169, between Whitby and Pickering, just after the steep hill from Saltersgate.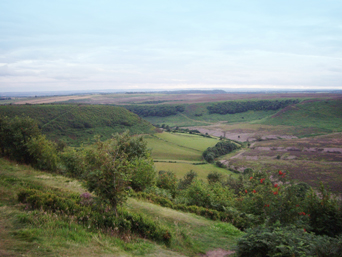 Hole of Horcum
Commonly known as the 'Devils Punchbowl' it is a fist shaped valley, formed by the action of springs along a boundary of two rock layers. Springs and rainwater seep through porous rocks, and the water gradually erodes the sides of the hole and enlarges it over many thousands of years. The Hole Of Horcum is part of the Newtondale Valley, sometimes called the Grand Canyon of England, formed from a glacial lake.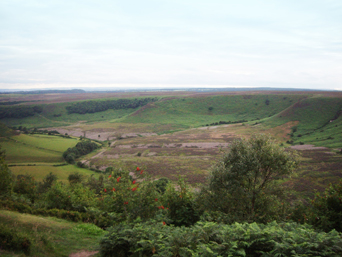 Hole of Horcum
These tabular hills are the southern boundary of the North Yorkshire Moors, from Scarborough in the east, to Hambleton in the west. The Hole of Horcum is a natural amphitheatre a quarter of a mile wide, a mile long and 600m feet deep.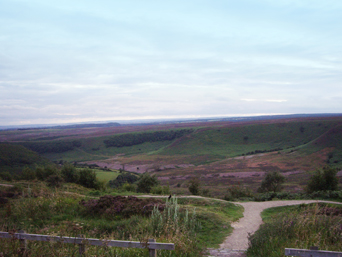 Hole of Horcum
As well as the nickname the 'Devils Punchbowl', legend has it that the giant Wade and his wife Bell who lived in the castle at Mulgrave, had a massive argument and in temper he picked a fistful of soil (the Hole of Horcum) and then threw it at his wife, missing her, it landed and formed Blakey Ridge.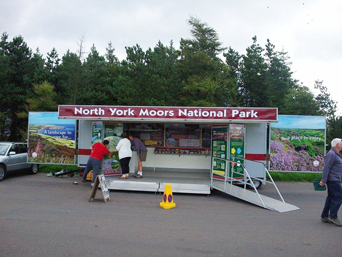 North Yorkshire Moors National Park Trailer
There is a car park situated opposite the Hole of Horcum, with ample car parking. Most times of the year, there is a handily placed ice-cream van, and in the summer months a North Yorks Moors National Park trailer with tourist information is parked here. Caution should be taken when crossing this very busy road.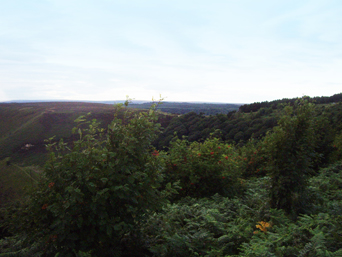 Hole of Horcum
From here there is a spectacular view with paths running along parallel to the road. Care should be taken when descending from here, but there are many well worn pathways. The Hole of Horcum is a very popular place for walkers, ramblers, kites, paragliding and model aircraft flying, the latter because of the natural uplift.

Panoramic View of the Hole of Horcum

Panoramic View of the Hole of Horcum
Hole of Horcum Map