Egton Bridge
Egton Bridge is situated 7 miles southwest of Whitby. It is a picturesquely positioned village, further down the valley from Egton. It is another stopping point for the Esk Valley railway line. The small station and platform is alongside the Postgate Inn, one of two public houses in Egton Bridge.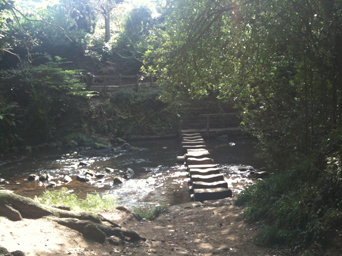 Egton Bridge Stepping Stones
The other public house in Egton Bridge is the Horseshoe Hotel. By the side of this hotel, are the famous stepping stones, beloved by many children, allowing them to cross the River Esk, accessed by a shady walkway.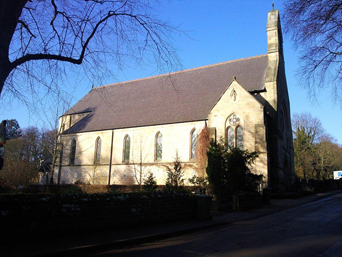 Egton Bridge Church
Fishing at Egton Bridge is available from from the Egton Estates. There are plenty of pools lending themselves to fly fishing.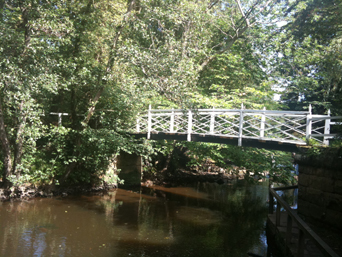 Egton Bridge foot bridge
The old stone bridge in Egton Bridge was rebuilt in 1992, as the ancient stone bridge was washed away in the 1930s.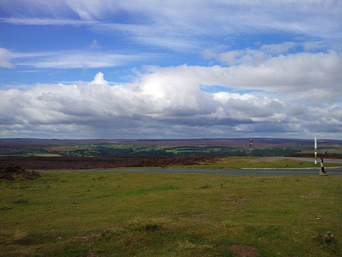 North Yorkshire Moors
The Egton Bridge Old Gooseberry Society was formed in 1800, and its annual show is held every year in St. Hedda's Catholic school. This is one of only two surviving gooseberry shows in England. The show is held on the first Tuesday in August, and attracts visitors from far and away.
North Yorkshire Moors
The village of Egton Bridge is dominated by St. Hedda's Church, built in 1866. It is worth viewing, for its ceiling painted blue with gold stars and the Belgian terracotta work at the altar. Egton Bridge was predominately Catholic during the 16th and 17th century, in the years of religious persecution.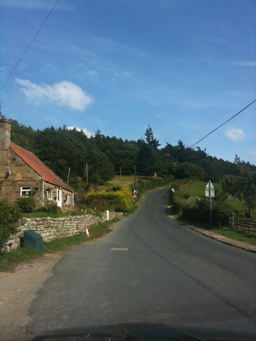 The hill up from Egton Bridge
The martyr Nicholas Postgate was born here in 1597, and was determined to be ordained. He trained in France, and returned to the area in 1660. He worked as a gardener to avoid capture, whilst he baptised his converts and took Mass in the Mass House and other secret houses. In 1678 he was betrayed, and at the age of eighty-two he was taken to York Assizes and found guilty of treason. In 1679 he was hung drawn and quartered on York's Knavemire, one of the last English Catholic priests to die a martyr's death.
The Stepping Stones at Egton Bridge
Press the arrow to start the video, press again to pause.
Egton Map