Beckhole
Beckhole is a pretty little hamlet, a mile or so from Goathland, and approximately 7 miles southwest from Whitby. In the early 1830's, when the Whitby to Pickering line was being constructed through the valley, the incline at Beckhole meant that the carriages (horse drawn initially, and consisting of stage coaches placed on top of bogies), had to be hauled by a complicated system of wire ropes, pulleys and water filled tanks.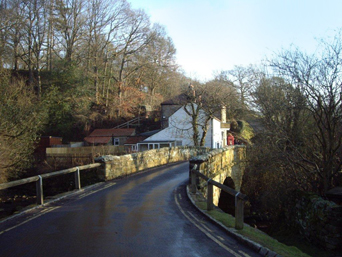 Beckhole
Steam was introduced in 1845 but still they had to be hauled up the incline. Charles Dickens was an early passenger, and thought the route 'hair-raising'. Many accidents occurred, and after a fatality in 1864, it was decided that an alternative route be made. In 1865, such a route was made by blasting through solid rock.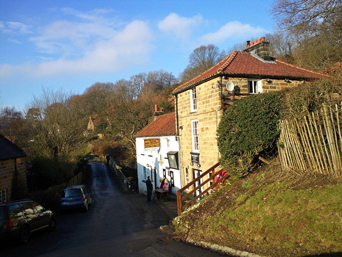 Beckhole
Around the 1850's, Beckhole was involved in the excavation of iron ore, and in 1857, two blast furnaces were constructed by the river, but this was shortlived. By 1867 the mines had closed and the furnaces dismantled. The village pub, The Birch Hall Inn, was granted a licence to sell beer and cider, and it was not until 1960 that a full licence to sell spirits was granted. It is a most unusual and quaint building consisting of two cottages.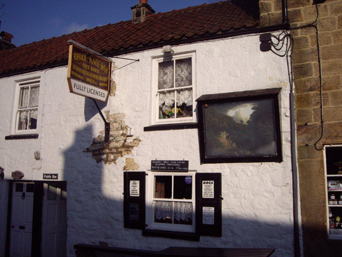 Birch Hall Inn Beckhole
The Inn has an unusual sign outside, an oil painting of a waterfall and the moors, which was painted by Algernon Newton RA. There two bars, the 'big bar', with seating, fireplace and a serving hatch to order through. The 'small bar' which has direct access to the outside, and in between a small shop selling sweets, ice-creams etc. The bars between them could accommodate about 30 people!!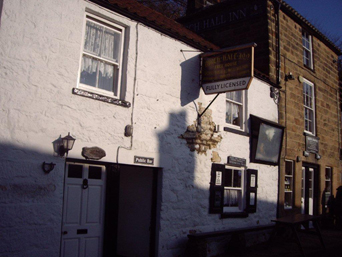 Birch Hall Inn Beckhole
The stone bridge next to the Inn, was built in 1873, to replace the wooden footbridge alongside an old fording point over Eller Beck.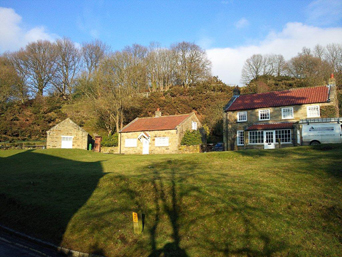 Beckhole Village
Every year Beckhole plays host to the World Quoits Championships, a game played on clay pitches, thought to have originated in Eskdale. It involves throwing a small iron hoop over an iron pin set in the ground about 25 feet away.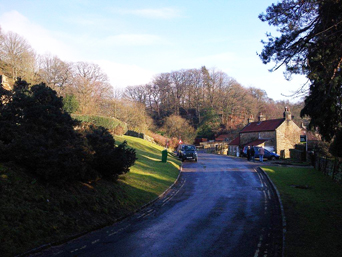 Beckhole
A mile or so west of Beck Hole, is the beautiful picturesque Randy Mere Reservoir. This was the last place in England for commercially gathered leeches. Apparently they are still there!!!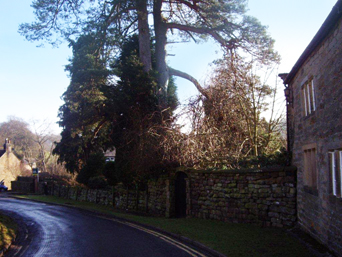 Beckhole
Thomason Foss, situated on the Ellerbeck on the approach to Beck hole is one of the very many waterfalls in the area. With a height of 10 feet, the water falls into a deep pool with overhanging rocks and branches.
Beckhole Map