Whitby Regatta 2017
This year (2017) the dates for the Whitby Regatta are the 19th-21st August.
For up to date information on this year regatta, click the following link to the Whitby Regatta Site
Whitby Regatta 2017
Whitby Regatta is one of the oldest sea regattas in this country, and has been entertaining crowds for over 170 years. In the beginning, fishermen competed against each other in their fishing smacks and cobbles. In 1847 it is recorded, that a schooner had won the Whitby Challenge Cup.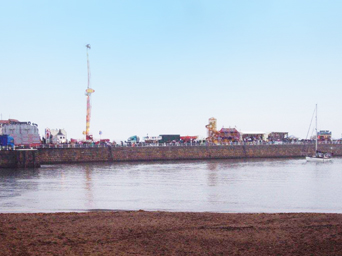 The Fairground rides on Regatta Monday
Yachts played a major role in the Whitby Regatta up to the 1930's, but with the emergence of amateur rowing clubs, it is they who have become the major attraction of the sea races. Today there are 3 main competitors, the Whitby Fisherman's Amateur Rowing Club, the Friendship Amateur Rowing Club and Scarborough Amateur Rowing Club.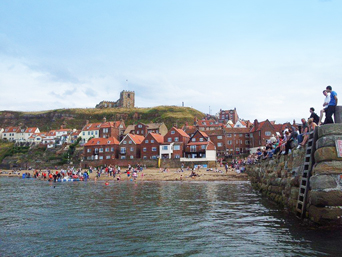 Boat Races at the Whitby Regatta
The races start from out at sea, along past the Spa Pavillion and Upgang. The finishing line, is in the harbour near the lifeboat station. Crowds line the harbour and piers, cheering for their teams. There are many different categories for the races including men, boys, seniors, girls and women. There are a large variety of cups for the winners which are normally on display in Whitby town centre.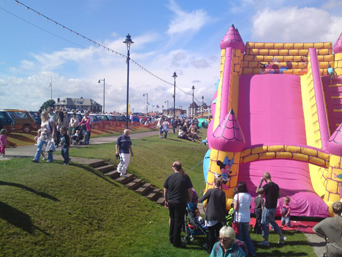 Children's rides on the West Cliff
Each year the Whitby Regatta programme is printed and sold in local premises, detailing the events timetables for the three day period.
The Car Show
The West Cliff is the usual location for the Whitby Regatta vintage car rally, motorcycle gymkhana, and displays by the 3 forces - Navy, Army and Air Force. In addition, there is usually a bouncy castle, rides for children and various stalls.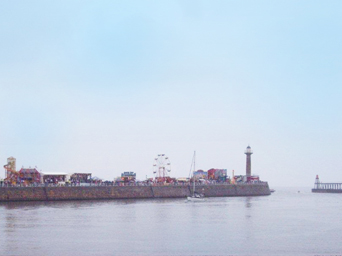 The Fairground rides on Regatta Monday
In 1929, the first fancy dress parades and decorated carts appeared, and now on Regatta Monday there is a Grand procession, featuring Miss Regatta, children's fancy dress and decorated carts/waggons around the town.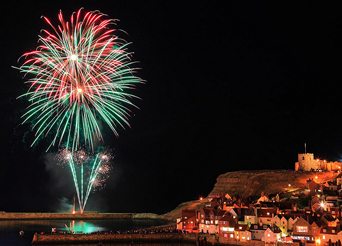 Fireworks on Regatta Monday
Pier Road is closed to traffic all day Monday, as far as the end of the pier near the Whitby Lighthouse to enable a plethora of stalls selling all manor of fancy goods , hot dogs stands, street traders and all types of fairground rides for young and old alike! In the evening there is a spectacular firework display on the East Side, visible from most areas of Whitby harbour, and along the West Cliff near the Royal Hotel. A very impressive end to the Regatta Celebrations!