Whitby Folk Week 2017
For over forty years, Whitby has been host to Whitby Folk Week. This year's Folk Week (2017) commences on the 19th August until 25th August.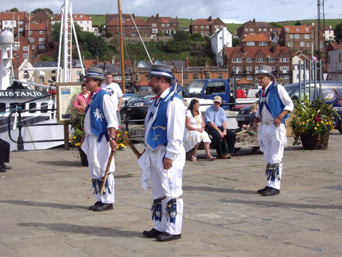 Morris Dancers at Whitby Folk Week
Whitby Folk Week is one of the busiest weeks in Whitby's calendar. Folk Week sees the town deluged in visitors, enjoying the music and dance associated with folk music. Each year this event seems to grow even larger.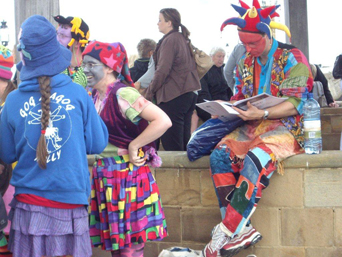 Folk Week at Whitby Band Stand
Public houses, street corners, halls and venues fill with dance teams, bands, workshops and singers all with the aim of enjoying themselves. Around the Whitby Bandstand and Whitby Tourist Information Centre there are often Morris Dancers and musicians filling the air with music and song.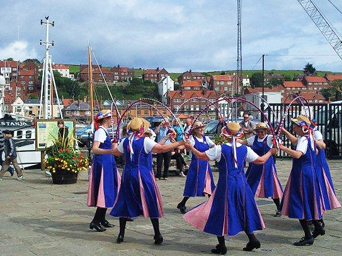 Dancers at Whitby Folk Week
This year there are thought to be more than 600 events over Whitby Folk Week. Weekly and daily tickets for the different venues can be bought in advance from the Whitby Folk week website, click the following link. Whitby Folk.
There are activities for children as well as adults during this special week in Whitby's calendar.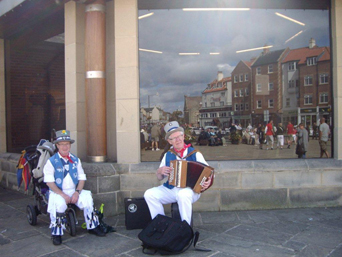 Musicans at Whitby Folk Week
In addition to accommodation in the many hotels and guest houses, self-catering establishments and caravan parks, campsites are also home for the week for the folk festival followers. Some school and sports fields open for the caravans and campers, such is the influx of visitors.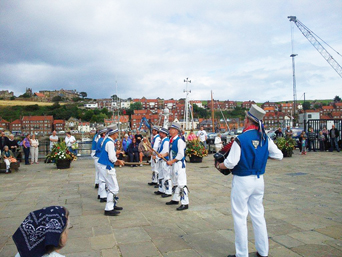 Morris Dancers at Whitby Folk Week
A number of pubs embrace the folk culture, and allow themselves to be taken over for the week, with different musicians and singers jamming with other like minded musicians, entertaining the clientele drinking there.