Try a Whitby Bed and Breakfast (Whitby B&B) or a Whitby Guest House !
Whitby Guest houses and Whitby B&B 's, are situated all around the town, and even extend to the outskirts. Many of the Whitby guest houses too, are registered with the English Tourist Board, and display their grading on boards outside their establishments. Most of the Whitby guest house bedrooms are en-suite, in line with the recommendations of the Yorkshire and Humberside Tourist Board.
Whitby B&B establishments also known as Whitby Bed and Breakfast, are less formal, and are private homes in which the owners will let rooms for guests. Quite often these are standard rooms but many do have en-suite bedrooms. You will find a Whitby B & B is often members of the local tourist board and as such have high standards.
Click on the boxes below, to help you find a B&B or Guest House in Whitby, and the surrounding area.
<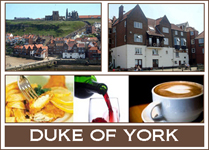 The Duke of York is a traditional pub, with a warm atmosphere and beautiful views over Whitby Harbour, the piers and the West Cliff. It offers six comfortable double rooms en-suite equipped with television and tea/coffee making facilities, on a room only basis.
Map of Whitby Bed and Breakfasts and Guest Houses