Geography of the Whitby Area
Whitby is situated at the mouth of the River Esk, on the North Yorkshire Coast. Whitby has been a safe haven for shipping over the centuries, it became a highly successful fishing and whaling port, employing a large majority of the population. The boat building industry was hugely successful in the Town of Whitby circa the 17th century. In the early part of the 18th century with the accessibility of huge amounts of Whitby Jet, a thriving industry began employing around 1500 jet workers at its height.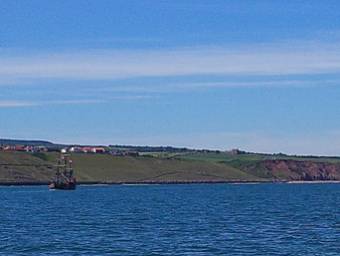 Whitby from the Sea
Whitby continued with its seafaring industry, up until the latter part of the last century, but this has however declined and now fishing trips and pleasure craft are the main traffic in the harbour.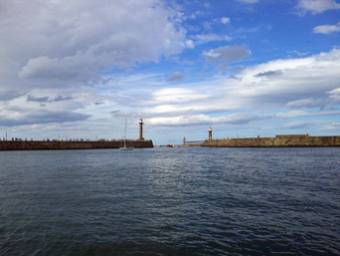 The East and West Piers from Whitby Harbour
The Town of Whitby is a popular destination for holidaymakers from all over the uk and abroad. It is easily accessible for day trips because of its position on the North Yorkshire Coast, in relation to Cleveland, and the rest of Yorkshire. Over the years there has been a huge increase in tourism in Whitby, throughout the whole year rather than just in the summer months.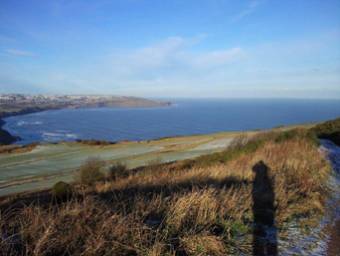 North Yorkshire Coast
The coastline around Whitby is often called the Dinosaur/Fossil or Jurassic coastline, because of its abundance of fossils that can be found both in Whitby and the surrounding North Yorkshire Coast, stretching right onto the North Yorkshire Moors. The 'Jurassic' coastline stretches from approximately Redcar in the north, to Filey in the south.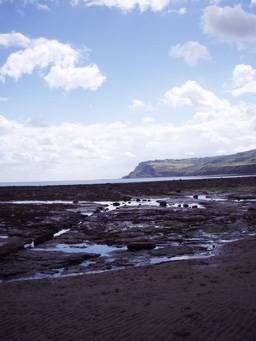 The Rocky Shore at Robin Hood's Bay
There are believed to be three types of Jurassic strata, the lower (lias), middle and upper, deposited approximately between 204 and 145 million years ago. The lower strata rocks were probably deposited in shallow sea floors, which contained a variety of marine creatures, ammonites, belemnites, bivalves and reptiles. The middle strata would have been formed from river deltas, and would contain sediment and fallen vegetation and animals such as amphibians and dinosaurs. The upper strata happened when the land again sank below the sea, these rocks would contain such sea creatures as coral reefs and ammonites.
Map of the Whitby Area