Whitby Disability Access
Holidaying with a disability, can cause difficulties with access into various restaurants, accommodation and visitors centres. In Whitby there are a number of visitor attractions that are accessible by the disabled and wheelchair users. These include the Lifeboat Museum on Pier Road, Whitby Museum and Art Gallery in Pannett Park, Captain Cook Museum on Grape Lane, Whitby Abbey and Visitor Centre, Whitby Leisure Centre and Swimming Pool on the West Cliff.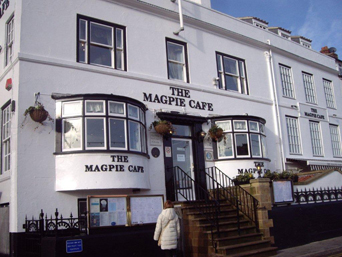 The Magpie Cafe
A number of restaurants are accessible, and these include Bothams in Baxtergate and Skinner Street, Passage to India on Windsor Terrace, Shafiq's on Marine Parade, The Magpie Café on Pier Road, The Shambles on the Market Place, Trenchers on New Quay Road and The Stables on Guisborough Road.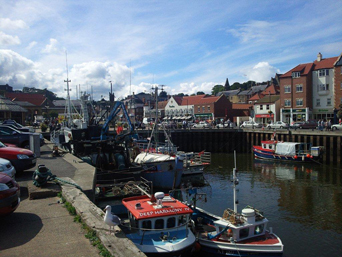 Whitby Harbour and the Taxi Rank
Accessible taxis include Harrisons (01947 600606), Parc Taxis (07900 213 054), Smilers Taxis (07881 467 725) and Streamline (01947 603321)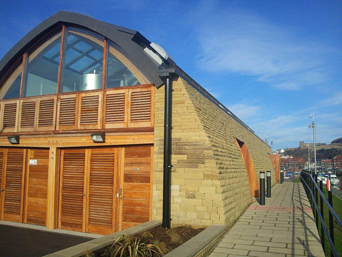 The New Marina Car Park Toilets
Toilets available with a RADAR key include Abbey Plain, Khyber Pass, Marina Car Park, New Quay Road, West Cliff and the Bus Station. RADAR keys are available from the Tourist Information Centre on Langbourne Road (opposite the Railway Station).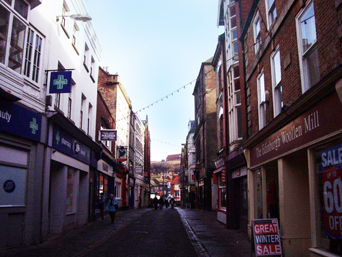 Baxtergate, Whitby
Accessible Shops include Boots and Yorkshire Trading on Baxtergate, the Co-op on Langbourne Road, Nisa on Flowergate.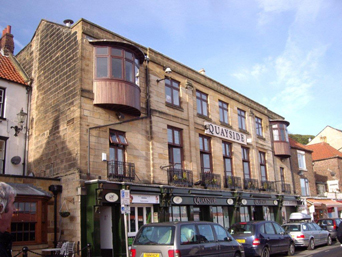 Roadside Parking on Pier Road
There are a number of designated disabled parking spaces in Whitby, including Abbey Plain Car Park, Abbey Headland Car Park, Church Street Car Park, Langbourne Road, Spa Drive (Pavilion/Theatre) and the Westcliff Car Park. Check out the Scarbrough and District Council website for the main car parks in Whitby, by clicking the following link. Whitby Car Parks
There is some roadside parking reserved for Blue Badge holders on St.Anne's Staith, Khyber Pass, East Terrace, North Terrace and Pier Road.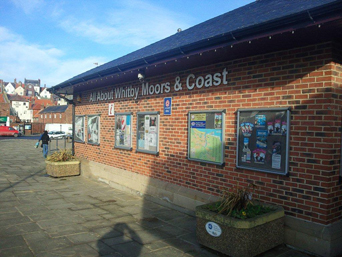 Whitby Tourist Information Centre
For those visitors wishing to hire wheelchairs and scooters, the Whitby and District Disablement Action Group DAG has an equipment hire scheme, operating from the Church House Centre, Flowergate. You can contect DAG by Telephone: 01947 821001, e-mail whitbydag@btconnect.com, or via their website, by clicking the following link. DAG Website.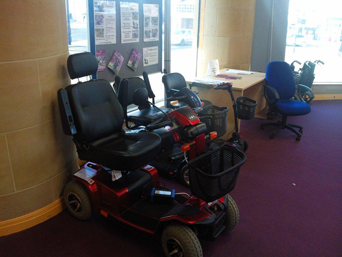 Equipment Available at
Whitby Tourist Information
Equipment available includes self-propelling wheelchairs, manual push wheelchairs, mobility scooters, beach wheelchairs, powered wheelchairs and an Landeez All-Terrain Wheelchair. Delivery and collection may be arranged from the Tourist Information Centre.
Map of the Whitby, Public Toilets, Tourist Information and Bus/Train Stations are marked