Whitby Fishing Trips and Whitby Boat Trips
Whitby is synonymous with fishing, and indeed has many different aspects for the keen angler. From a three to five day fishing trip, to a 10 or 12 hour fishing trip, from a 2 to 3 hour fishing trip, to fishing off the end of the pier, all different types of sea fishing are accommodated here.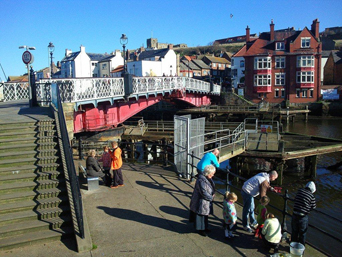 Kiddies Corner
Children can be found fishing, or 'crab lining' at Kiddies Corner near the Old Swing Bridge. This, a favourite pastime that has been taking place over the centuries.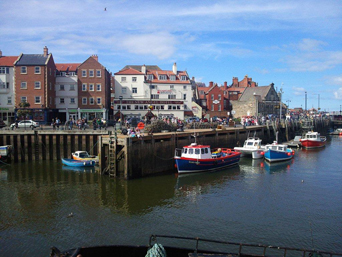 Boats in Whitby Harbour offering Cruises
The dock-end is where the majority of fishing trips take place. There are numerous placards depicting the length of fishing trip and prices displayed on the railings at the harbour side. There are also many of the sea angling charter boats that advertise on the internet, many have been operating for over twenty years. These charter boats can hire the fishing equipment if required. The full day fishing trips can travel up to 25 or more miles offshore, to fish on old wrecks.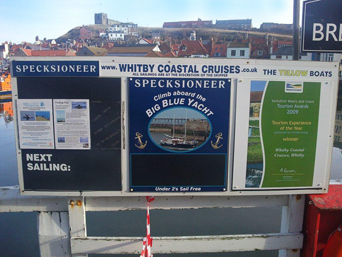 Signs advertising trips to Sea
For those who enjoy a trip to sea without the fishing, there are a number of pleasure craft willing to take paying passengers either upstream or out to sea. These include a replica of an old sailing ship, an old lifeboat, a fast jet speedboat, and larger craft that takes sunset cruises, twilight cruises and whale watching trips! These too can be found along the harbour on the west side.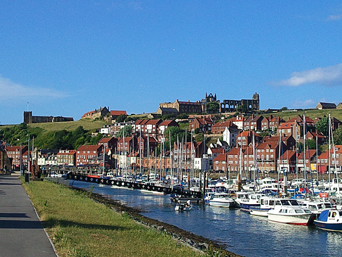 Whitby Marina
Beach fishing is popular on both Whitby beach and Sandsend beach but please take care to consult the tide tables.
For information on the local tides, consult the National Oceanography Centre Website
Tidal Predictions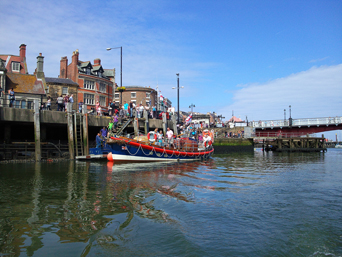 Whitby's Old Lifeboat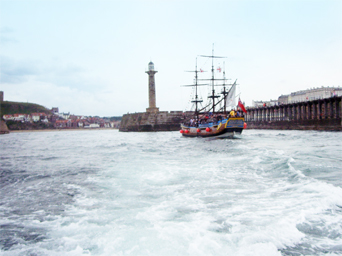 Whitby Boat trip